Advanced threat protection against viruses, spyware and other malware. Use your computer safely without slowing it down.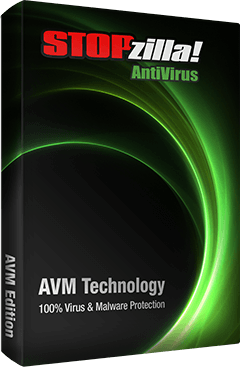 Threat-removal Layer: Targets and eliminates hard to remove threats less sophisticated products often miss.
Realtime Scanner: Monitors data as it is coming into the computer to intercept any malware as it enters your system.
High Performance Scanner: Features high scanning speeds and a small system footprint to preserve your computers performance.
Device Control: Ensures that all files stored on DVDs, CDs and USB thumb and external drives don't pose a threat to your computer.
Light on Your Computer: Engineered to use minimal system resources, STOPzilla Antivirus ensures applications run more efficiently, files load quicker and systems boot faster.
Free Technical Support: Our Customer Care is readily available when you need help – free of charge.

System Requirements
Supported Operating Systems
Windows Vista SP1 (32- and 64-bit)
Windows 7 (32- and 64-bit)
Windows 8 (32- and 64-bit)
2 GB RAM for Vista and Windows 7
500 MB free drive space
1 GHz processor
Windows XP is no longer supported.